Office Air Duct Cleaning is Crucial
03/20/2014
Back To Blog
Working places, especially those hosting a large number of employees, may have suffocated environments. Offices are aired only through the ventilation system and hardly or not at all through open windows and consequently the indoor air may be stuffy or contaminated by filthy ducts. For this reason, air duct cleaning is of the utmost importance. Concentrated dust in the indoor atmosphere will have substantial and bad effects on employees, who usually spend most of their days in these confined spaces. Failure to have the ducts cleaned properly will cost you in several ways.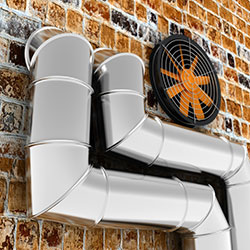 Keep your employees healthy
Air duct maintenance is crucial to take place once a year. The ducts ought to be cleaned, inspected and repaired or you will encounter serious problems in the future. Don't forget that most offices use their HVAC system all day. Ducts keep transferring air and the HVAC unit works endless hours. If HVAC maintenance is not done properly or on the right time, the parts of the system will wear down much faster and you will be paying for replacements.
Making sure the HVAC system is maintained efficiently and air duct repair is done properly will actually save you money. Consider the following:
Maintained parts will last longer and won't be replaced anytime soon.
The HVAC system will work at its maximum efficiency without wasting energy and, thus, your bills will be reduced.
Air loss due to damaged ducts will stop. Air duct seal repair will ensure efficient airflow.
The good insulation of the ducts will ensure better temperatures in offices.
Dirty ducts will have terrible effects on your employees. Dust already contains pollens, fibers and dirt but when it is aggravated with other contaminants found in the confined ducts, it will worsen people's health, too. Filthy ducts will have high concentration of dirt and mold, insects and even rodents. Harmful particles will be transferred in the office and daily contact with such contaminated air will cause chronic illnesses and allergies. Consequently, the productivity of your employees will drop and your business may suffer from their occasional absence from work all due to your negligence to do ventilating cleaning.