HVAC Unit Cleaning
Back To Our Services
The HVAC unit is the hardest working part of your property's ventilation system, and usually the part that gets exposed to the most dirt and moisture. Periodic cleaning and maintenance can save you a lot of trouble and expense by preventing the need for repairs as a result of dust and rust buildup.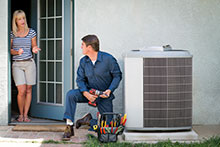 Rust And Dust
When your HVAC unit sucks in air from outside the building to be heated or cooled, it also sucks in dust and other particles from the air. These can eventually clog the machine and cause it to break down. Additionally, wet weather and condensation from the air conditioning work to expose the machine to a large amount of moisture which can also increase the risk of rust. Every now and then, your unit will need to be opened up, cleaned and scrubbed, especially if you've got a hot or cold season ahead of you.
Cleaning The Grilles
In addition to the inner workings of the HVAC device, the metal grilles that the air passes through on its way in and out of the machine require periodic attention. Dirty or rusty grilles can block the air flow and cause the HVAC unit to overwork itself, or just flood your house with dust or rust particles whenever you turn on the AC. A little cleaning and scraping goes a long way to keeping your system working properly!
Filter Cleaning And Replacement
The HVAC unit contains a series of gauze, polysynthetic and carbon screens that work to filter the incoming air from outside. Over time, these filters become full of caught dust and impurities, making the HVAC work harder and harder to bring air through and pulling in more dirt in the process. Professional cleaning will make your filters last longer, but eventually the screens will need replacement. Our expert team can help with all of this.
Call Us Today
Our company provides professional HVAC cleaning and filter-replacement services at a reasonable price across Newhall. Don't wait for your system to break down, contact us today!